Thread Cutterz is a revolutionary solution to cutting thread, yarn, embroidery floss, and the like. It was originally designed as a safer, and better, way to cut fishing line. You can read more about the history of Thread Cutterz here.
Are Thread Cutterz dangerous?
No.
Thread Cutterz may be the safest thread cutting solution in the industry. The patented, recessed, fixed-blade design of Thread Cutterz makes it virtually impossible to accidentally cut yourself. There are no sharp points or open blades to worry about.
Can I bring my Thread Cutterz on airplanes?
Yes.
The Thread Cutterz ring is perfectly safe for air travel. The recessed blade does not pose any risk of harm.
How do I know if the Thread Cutterz ring will fit me?
The Thread Cutterz ring uses an adjustable velcro strap that will fit most finger sizes, from children to adults. The strap can be tightened or loosened to whatever is most comfortable.

Do I have to wear the Thread Cutterz ring on my finger?
No.
The Thread Cutterz ring can be strapped around sewing machine handles, bag straps, or thread spools. You can put it anywhere that it will fit and still be easily accessible. We have also expanded our Thread Cutterz line to include several other form factors besides the original Thread Cutterz ring.
The Thread Cutterz Peel n' Stick includes a 3M adhesive that allows for adhesion to any flat, clean surface (sewing machines, desks/counters, hard cases, etc...)
The Thread Cutterz Zipper Pull features a mounting eyelet and comes with a split ring for easy attachment. It can be attached to key rings, lanyards, zippers, etc...
Where can I stick Thread Cutterz?
The Thread Cutterz Peel n' Stick comes with 3M adhesive pre-attached. It is suitable for adhesion to most clean flat surfaces. It is recommended that you clean any surface that you plan to adhere the Thread Cutterz to with alcohol to achieve the best hold. The base of the Thread Cutterz Peel n' Stick is flat, so the adhesive will not be able to contact the surface fully if it is not also mostly flat.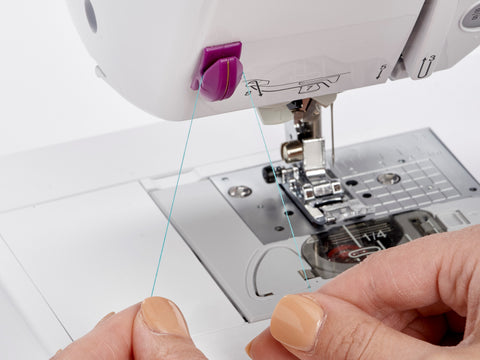 I want to relocate my Thread Cutterz. How do I remove it?
The adhesive that we use for the Thread Cutterz Peel n' Stick is meant to be easily removable from solid non-porous surfaces. The easiest way to remove the Thread Cutterz Peel n' Stick is by firmly grabbing the Peel n' Stick cutter and twisting it. If any adhesive residue remains on the surface, it can be rolled off by rubbing it with your finger.
Still have a question? Send us a message and we will get back to you ASAP.